Agri-wallet: a wallet for smallholder farmers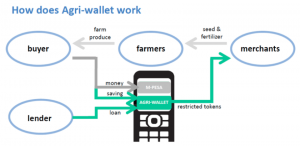 Access to finance is a serious challenge for smallholder farmers worldwide, and the majority of them are still underfinanced.
When loans are provided, farmers may often pass these loans on to other people in need of cash.
This, as well as the absence of a credit score or collateral (like title deeds), create uncertainty and risk for financial institutions and increases the difficulty for farmers to obtain such loans or other forms of finance.
Themes:
FinTech
Maturity Level:
Scalable solution
Country:
Kenya
Type of access:
External
Funding agency:

Organization main contributor:

Partner organization:
CTA
Contact email for contributor:

---
Blockchain related tags:

Blockchain protocol:

Research:
no
---
[toolset-edit-post-link content_template_slug='edit-use-case-form' target='self']Edit %%POST_TITLE%% use case[/toolset-edit-post-link]
---
---