Biofortified maize in Nigeria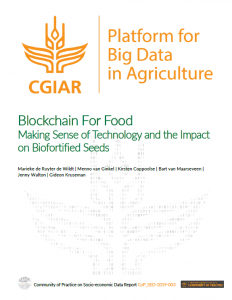 In the summer of 2017 Marieke de Ruyter de Wildt started a movement in the Netherlands around blockchain for food. During the first Big Data Convention in Cali Colombia in September 2017, the Community of Practice on Socio-economic Data started a working group on this topic focused on low and middle-income countries known as The Blockchain Coalition. The collaboration between the Fork and CGIAR has further strengthened over the recent years with the Strike Two Summit events organized by the Fork in which the CGIAR Platform for Big data in Agriculture sits on the governing bodies. In the past years (2017-2019), The Blockchain Coalition has undertaken a number of efforts to identify and develop proofs of concepts and pilots for the use of digital trust and transparency technologies of which blockchain technology is a key component. Therefore the current report is timely to set the scene and provide insights into a specific use case.
Blockchain For Food: Making Sense of Technology and the Impact on Biofortified Seeds
This is the report on blockchain for food with the example of biofortified seed in Nigeria.
The global food system is under pressure and is in the early stages of a major transition towards
more transparency, circularity, and personalisation. In the coming decades, there is an increasing
need for more food production with fewer resources. Thus, increasing crop yields and nutritional
value per crop is arguably an important factor in this global food transition.
Biofortification can play an important role in feeding the world. Biofortified seeds create produce
with increased nutritional values, mainly minerals and vitamins, while using the same or less
resources as non-biofortified variants. However, a farmer cannot distinguish a biofortified seed
from a regular seed. Due to the invisible nature of the enhanced seeds, counterfeit products are
common, limiting wide-scale adoption of biofortified crops. Fraudulent seeds pose a major obstacle
in the adoption of biofortified crops.
A system that could guarantee the origin of the biofortified seeds is therefore required to ensure
widespread adoption. This trust-ensuring immutable proof for the biofortified seeds, can be
provided via blockchain technology.
https://cgspace.cgiar.org/handle/10568/106615
Publication
How Can We Harness Tech To Scale Up Biofortification?
This is a blog pots on a HarvestPlus event
Biofortified food crops are now widely considered valuable elements in strategies to improve nutrition and health—especially for smallholder farming families and other vulnerable groups in low- and middle-income countries. Globally, many governments, funders, and businesses are keen to significantly scale up the reach of biofortification, both in terms of the volume of crops grown by farmers and the range of consumer food products using these micronutrient-rich crops as ingredients.
How can technology help efforts to scale up? At an event organized by HarvestPlus and The New Fork about Using Tech Solutions to Scale Biofortification, experts in the application of technologies for food and agriculture systems focused on this question. The event was held Jan. 28 at the International Food Policy Research Institute (IFPRI) in Washington, D.C., where HarvestPlus has its headquarters.
https://www.harvestplus.org/knowledge-market/in-the-news/how-can-we-harness-tech-scale-biofortification
Blogpost/linkedin post/twitter mini-blog
Food Integrity blockchained use case #18
The biofortified seeds use case was also a recurrent theme in the Food Integrity Blockchained meetups in 2019
https://agrifoodtrust.cimmyt.org/use-case/fib-use-case-18-fortified-seeds-africa/
AgriFoodTrust Entity
Themes:
Biofortification
Maturity Level:
Idea or concept note
Country:
Nigeria
Type of access:
External
Funding agency:
CGIAR Platform for Big Data in Agriculture
Organization main contributor:
The New Fork
Partner organization:
HarvestPlus, Community of Practice on Socio-Economic Data of CGIAR Platform for Big data in Agriculture
Contact email for contributor:
g.kruseman@cgiar.org, kirsten@theFork.online, j.walton@cgiar.org
---
Blockchain related tags:

Blockchain protocol:

Research:
no
---
[toolset-edit-post-link content_template_slug='edit-use-case-form' target='self']Edit %%POST_TITLE%% use case[/toolset-edit-post-link]
---
---